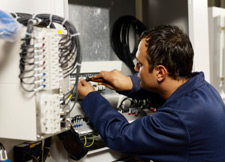 Founded in 1997, Staff Sense provides alternative staffing services to production based companies that specialize in manufacturing and electronics throughout the Dallas Metroplex.
Overall, our company can be characterized as an aggressive, growth oriented staffing company, focused on providing excellent customer service.
Staff Sense will provide an innovative, honest, custom tailored service exceeding the expectations of ALL our Customers.
Industries
Warehouse
Shipping/Receiving
Forklift Operators
Assembly/Packers
Order Pullers
Inventory Control
Material Handlers
Electronics
Electronic Technicians
Electronic Assembly
Electromechanical Assembly
Computer Technicians
QC Inspectors
Engineering
Office
Administrative Assistant
Accounting
Receptionist
Customer Service
Data Entry
File Clerk
Fabrication
CNC/Conv. Machinist
Machine Operators
TIG/MIG Welders
Sheet Metal Fabrication
Maintenance Mechanics
Mechanical Inspectors